Orange and Brown Watercolor Autumn Sale Banner
Excellent results Great work by the team plz must vist it's worth spending money at very reasonable prices and specially great thanx to Mr Praveen and his Artist to Give me this look😇😇😇😇
Extremely great service. Staff is good and owner is really supportive and friendly. They offered perfect hair patch and great service. Keep it up!!!
I m Businessman and I m using Hair Patch since 5 years, I came from Bihar because my friend suggested this place, quality was marvellous and I am glad I got here Mirage hair patch and Hair quality and technician is very good because they provide very nice looks. Praveen ji very helps well. My whole query was resolved Mr Praveen knowledge is excellent of Non surgical Hair Replacement Highly Recommended
Nice Workers 👍 I was very frightened for fisrt time but talked with the old customer which were at office for general monthly service. They helped me then I got confident for applying patch then it really was good. Recommended
Great service teamed with the best knowhow! The wigs by young forever Hair Replacement give utmost comfort and the best style! My wife never felt uncomfortable wearing it!! Also... Two of my very close friends have been using the hair replacement system by young Forever Hair Replacement Studio as a baldness solution! It looks absolutely real... It has given them a confidence for life... And we love their look!
Good service with very economical prices
It's was always I a nice experience and so co-operative staff mostly Ms Priya is the person who suggest me and treat good service
I have been Young Forever Hair Replacement studio customer since the last few months and I must say that I am impressed by Mr. Praveen Srivastava Professionalism! The only reason I would like to continue using Young forever services is Praveen ji. I don't mind travelling extra 40km from my place to get my hair bonding done specifically by him. 10 on 10 for his work!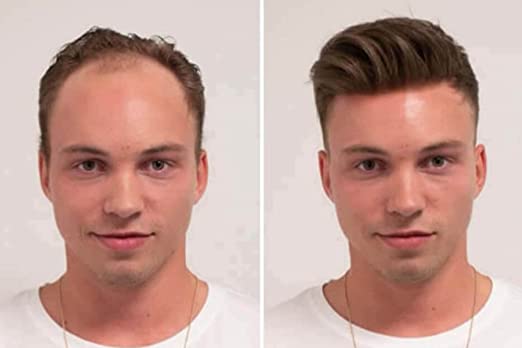 Non Surgical Hair Replacement
I lost my hair but am still dreaming of my look with hairs. Is this possible?
Hello we are an answer to your question, and the answer is a big YES.  We are specialists in Non-surgical hair replacement treatment which is an excellent solution for people experiencing hair loss or baldness. A hair patch, also known as a hair system or hair wig, can be a game-changer for people looking to restore their confidence and self-esteem. We are not only working for hair patches, we are also doing all hair replacement services for people who had a hair loss problem in their life because of any reason such as medical treatment, stress, low diet, hormonal changes etc.  
Hair patches are made from high-quality hair and can be custom-made to fit the client's head shape and hairline. These hair patches can be made from human hair or synthetic hair, depending on the client's preference and budget. The process of getting a hair patch involves a consultation with a hair replacement specialist who will assess the client's hair loss and recommend the best hair patch solution. The specialist will take measurements of the client's head and hairline to ensure that the hair patch fits perfectly. The client can choose the hair color, texture, and style to match their natural hair.
Hair Replacement in Delhi
In today's image-conscious society, the importance of your physical appearance cannot be overstated. Everywhere you turn, whether it's billboards or TV ads, you are inundated with images of individuals boasting beautifully healthy hair. While it's true that these advertisements may be digitally enhanced, they have set a new standard for how men and women should look in real life. However, not everyone is fortunate enough to have naturally stunning hair, and experiencing hair loss can significantly impact your appearance and cause worry. Baldness can lower your self-esteem and make you constantly conscious of your looks, affecting both your personal and professional life.
Have you exhausted every method available to regrow your hair without achieving positive results? Have you fallen victim to deceptive companies selling hair regrowth oil? If so, you need not look any further. Consider trying the cutting-edge hair replacement treatment provided by Young Forever Hair Replacement, where we offer exceptional non-surgical solutions for baldness.
Our hair replacement services are tailored to your specific hair type and scalp condition, ensuring optimal results that suit your age and align with current fashion trends.
Trust us to address your baldness concerns and transform your appearance with the latest hair replacement solutions. At our center, we provide unparalleled service suitable for both men and women. Our treatments are affordable, and our team consists of expert and highly qualified individuals dedicated to their craft. They possess the expertise to cater to each client's unique needs, and our customized service is the hallmark of our center.
Visit us for a Free Demo & Consultation, during which our team will determine the most appropriate treatment for you. Only when you are fully convinced of the treatment we propose will you decide to proceed with our certified procedures.
With over 10 years of experience in non-surgical hair replacement, we have successfully treated numerous individuals who are now delighted with their appearance. Our primary goal is to satisfy our clients and bring smiles to their faces. By restoring your hair to its lovely and stunning state, we aim to boost your confidence and help you face the world without any inhibitions. Choosing Young Forever Hair Replacement for your hair replacement needs will undoubtedly be one of the best decisions you've made.
So, why wait any longer? Schedule an appointment with us and discover the suitable treatment options for you. Once you are completely satisfied with our recommendations and treatment solutions (which is highly likely), you can proceed with the treatment we provide.
Non Surgical Hair Replacement
Hair loss is one problem that can affect the self-confidence and self-esteem of a person. In recent years, number of people suffering from this problem has increased.If you are suffering from hair loss and looking for non-surgical hair replacement treatment then you are at the right place.
Hair fixing is a cosmetic procedure that involves attaching a hairpiece to a person's natural hair in order to create a fuller or longer hairstyle. This can be done using a variety of techniques onto the person's existing hair. Hair fixing is often used to add volume to cover up bald patches, or simply to create a new hairstyle. The process can be done in a salon by specialist hair fixing professional.
Basically, hair weaving refers to the procedure of adding hair to cover your baldness or add hair to your real hair. Different hair weaving types include netting, bonding, fusion, tracking, micro braiding and lace extensions. It is up to you to choose your hairstyle. Hair weaving is done for different stages of baldness. 
There are many treatments available for Hair Loss or Hair fall problems. Hair Bonding comes under Hair Extension. It is the quickest way to get rid of baldness or hair fall. Hair bonding is a painless and non-surgical way to add compatible hair extensions to your existing hair.
Hair extensions are for those who want to have long hair or add more volume to it. There are many different kinds of hair extensions such as the temporary one that can be removed each day, the semi-permanent one that can be worn for 6-8 weeks, and the permanent one which can be worn for months together.
They are easy to wear: Who wants to waste time by getting their hair pieces reset every now and then. Those who are always on the go need something easy and simpler. Wigs are meant for those individuals who don't have the luxury of time but want to look good. The ease of wearing wigs. makes them an all-time-favourite!
Are you suffering from hair loss or feeling ashamed of the bald head? No need to worry!!! We bring a solution to your problem with endless benefits.